We are proud to announce that St. Chads Road has been rewarded Blackpool in Bloom: Street of the Year for the second year running. Veronica (me) of the Strathdon Hotel went to accept the award at the Blackpool Winter Gardens which was truly a proud moment.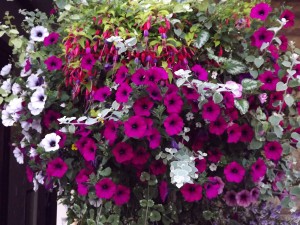 St. Chads Road recently underwent a large transformation and is now the best looking street in Blackpool.     Along the street you will notice the beautiful flower gardens, wide stone paths and new stylish lighting. St. Chads Road is also now a oneway street which has considerably reduced the amount of through traffic, lending itself to be a nice street to stay in.
The Strathdon Hotel is situated right in the middle of St. Chads Road so you will benefit from the beautiful visual of the street at the front of the hotel and you will appreciate the reduced noise from passers by and traffic.
During the judging of the Blackpool in Bloom competition, the BBC cameras were out in force and as a result I will be appearing on a BBC documentary entitled "What makes Blackpool tick?" which will be aired around the end of October or early November. The documentary will be aired on BBC One at 9:00pm however the date in still to be confirmed.